How many banners are too many banners?
Sometimes your project has many stakeholders. They all want a banner on the homepage. Here's your counter argument!
So recently, I've often been in meetings with our design team or with clients (or both), and the discussion around a scrolling banner (or carousel) has often come up.
Straight in for the jugular here - our general thoughts are that users have banner blindness when it comes to scrolling banners. I'll explain.
What am I talking about?
Banner blindness typically refers to the ad banners and side ad banners on websites.
Various research has been carried out all proving that huge percentages of all users have banner blindness and skip over these and ignoring them. Most of the time this relates to adverts.
But what I'm referring to here is the designed content banners in the context of website layout - usually the homepage, and usually a large header banner at the top of the page.
We have lots of latest …
Clients come from multiple angles, some valid, some context driven, some *perhaps* digital newbies
The 'I saw it on…'  —  argued for simply because they've seen it 'work' elsewhere. It's an easy way out to get each departments message on the homepage!
It's also an easy way to cause arguments… "why is department B before us?!"… you get the picture.
The 'so it feels like its updated' effect. I've never fully got my head round this one. It's often related to banner images rather than banners with call to action signposts to other areas of the site/news stories etc. I don't think I've ever been on a page where it had a scrolling banner and made me feel like the page was as up to date as it could be.
The 'we'd like to show lots of news stories on a scrolling banner' idea. Now I can totally get this, but of course this has got to be considered in context. And banners won't necessarily help.
Capturing users
I remember speaking to a colleague about how to capture users by rethinking how we approach web design. Instead of thinking 'what do we need to put on the homepage' for a client, but flipping it just very slightly to consider the homepage as a 'window into your brand'.
What can you not let a user look away from that page and not have seen?
Whats the key message you need to say, what impact is that page trying to have on a user etc.
Naturally these things all are in context. For an e-commerce shop, these questions may relate to multiple different personas and user groups, but here we are discussing in context of messaging and brand identity online.
One of the interesting points we discussed that got me thinking more deeply was around what focus and priority then does all the other guff take? All that extra stuff that we allow brands and companies (and even ourselves!) to pump onto their websites?
Where does that all go? Is it needed on that page? If not, is it needed at all?
One conclusion I certainly came to was that it wasn't needed in multiple scrolling banners!
Banner Blindness
On most of our projects, we spend quite a lot of our time discovering and digesting detail and research around users, stakeholders, and building personas to help to improve the overall user experience of the sites we design.
We work with multiple national brands, and SMEs across the country and it's often a discussion that comes up in both contexts around banners.
As mentioned earlier, for the most part, our thoughts around banner blindness have been in line with the opposite side of the few examples I gave earlier. In those examples, we'd likely more often than not, try to encourage the client away from this, but in hindsight I think we might be missing something… and here's why.
If we see each page of a website as a chance to engage a user and encourage an interaction, then why can't the banner be one of these?
Think about it.
If we carved out a way (in context) of being able to create a site that said all it needed to on each page in as simple a way as possible (the window effect) but we were also able to use banners in a scrolling fashion that engaged a user.
Easy? Probably. But getting the user to click/interact… there's the tricky part.
One of the most effective type of websites I think banners can work on are event sites.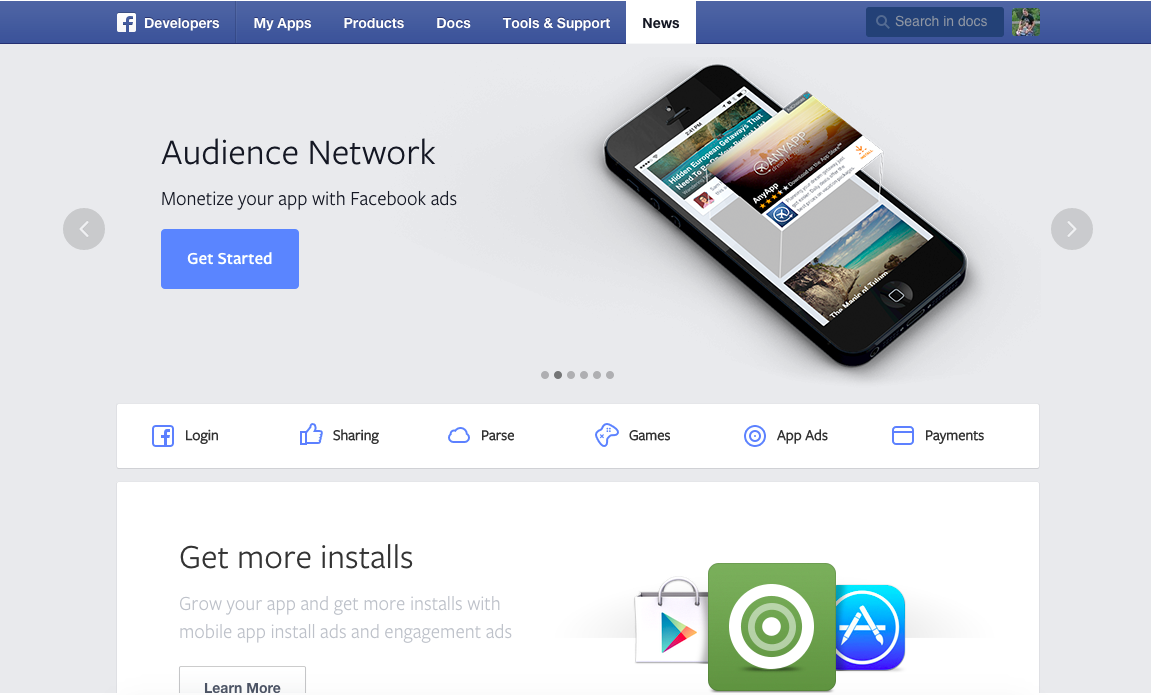 Facebook Developers Conference
I found my way onto Facebook developers conference site, which sparked this article. I think they've got this nailed.
> Why? Because it's an event site.
On event sites, for the most part, people want to know what's going on, how to access something, who's speaking, what times specific parts are, what bands are playing or who the special guest is etc.
Banners are perfect here. People happily click through, scrolling through to discover something new about the event they're off to, finding out more information that they didn't know initially.
I found myself doing it! It made me stop and think, this is one of the first times for a very long time (apart from when testing a new site pre-launch) that I can recall scrolling through a banner list on a site. Why?!
Because I was genuinely interested in what the banner content could give me
And that's it  —  it's about finding ways to interact your users, its about knowing your users, and it's about finding ways to give them extra little windows that you know they'll click through and take a peek into.
Final Thoughts…
I'm genuinely challenged to consider the banners as something that can be of use to users, and not just of use to content. Exploring ways of utilising banners in context of providing more information to users for the stuff that you know they want more of.
Another news story or an extra pretty picture isn't going to make the blind bit of difference to the success of your webpage. Stop adding them!
Find out about your users, their needs, utilise user engagement and user testing. And make the banners work for you!
…or if in doubt, get even rid of them altogether. There's another thought. ;-)
Can we write a story with you?
Red Bullet has been one of Kent's most successful digital agencies since 2006. We work with SMEs, large corporates and household brands in making better user experiences through digital.